Buying the most expensive golf clubs will not make you necessarily hit longer or more accurately, after all your level of expertise will make all the difference, and that will only be obtained by practicing consistently.
Having said this, owning one of these golf sets will make you the envy of your peers, and might give you confidence on the green.
For this post we have reviewed four of the most expensive golf clubs you can buy online. Here they are:
Even though these are the most expensive, they are an online purchase which means that they are mainly for beginner golfers and are within the price range on most people.
So, if you're really interested in showing off as soon as you step on the golf course these golf sets will sure start you in the right direction.
As for your golf swing, these might help a bit but to make a drastic improvement we suggest you follow what the pros are doing.
Now, let's look at what your money can buy you.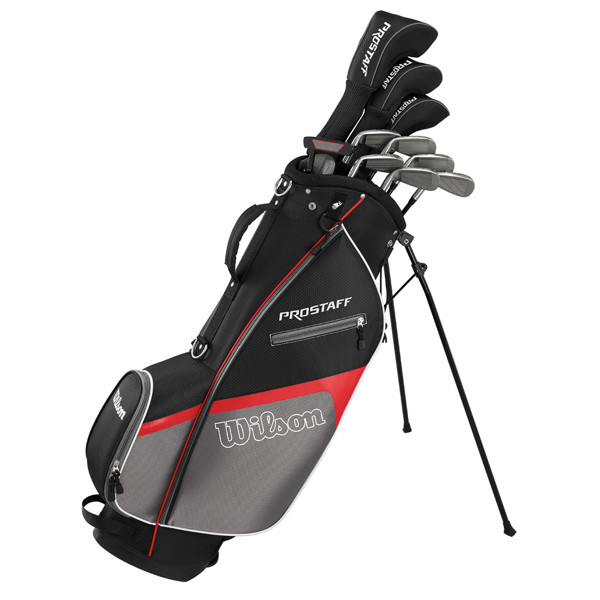 The Wilson Velocity 8 piece iron set is actually the ideal purchase for the less experienced golfers who are just starting out or who still have quite a high handicap.
These irons are made with game improvement in mind and as such offer the amateur golfer the forgiveness they are looking for on each hit.
With an excellent build quality, and an undercut cavity design, the Wilson Velocity HDX look really good and give out a professional vibe.
Other Features
Clean looking set of steel irons.
Improved flight on each shot.
Excellent Forgiveness
Good control and feedback thanks to the steel shafts.
The Cobra XL Complete Set will maximise your performance from the tee thanks to the CH weighting that
These Irons perimeter weight placement and low-profile head are designed for optimal launch and also for forgiveness.provides the best combo for distance, launch and spin.
Apart from the low back weighting, the metalwood also have a visual crown alignment indicator which makes it easier to align the club for a straighter shot.
These clubs are also nice to look at. Thanks to the premium chrome finish which provides a timeless and clean look that screams Classic and looks expensive.
Other Features
Lightweight club components for increased swing speed
Patented Grip
Low profile Club Heads for heightened launch
Comes with full feature cart bag that will keep everything organised and in the right place
Also comes with head covers
As the name implies, the Cobra XL, really is a complete set that will give you all you need to perform at your best and look good while you're at it.
The S7 are a golf club set made by Precise Golf which is a global player in high-performance golfing equipment and accessories.
The S7 Limited Edition Club set is intended for the mid-level amateur golf player who needs a good set of quality clubs that do not cost an arm and a leg!
The S7 complete golf set comes with the golf bag which consists of 17 pieces, including a 10.5 degree High MOI 460cc Driver which has a lightweight graphite shaft, allowing increased swing speed and distance.
The stainless stell irons are super forgiving and come from No. 5 through to SW made from True Temper Steel Shafts.
The no. 3 and no. 5 Fairway Woods will give you the distance you're looking for thanks to their low and deep CG.
The S7 set
also comes with an Iron/Wood Hybrid  and a classic Blade Putter with a grooved insert in the face for getting the ball rolling forward without skipping.
Other Features
 – Multi-compound grips will allow for comfort and a firm control in all types of weather conditions.
– The bag that the set comes in is a deluxe, high quality stand bag with handle and has a number of  spacious pockets. To top it all off you also get 4 matching head covers in this full set.
The Bazooka is back and more powerful than ever. You'll see the effect of this new and improved design right off the tee.
This new set has been created to give your shot power and distance.
The Bazooka driver's titanium-powered head delivers distance and playability like the best of them.
With a rear fixed sole weight that creates a deep center of gravity, players of all levels can easily launch the ball down the fairway.
The driver's head is has a sloped crown and aerodynamic shape which allows for reduced drag and improved airflow that will allow you to get a super-fast swing and an explosive rebound off the face.
The driver has a black PVD finish that is also extremely stylish.
Tour Edge's Bazooka 460 Black is paired with premium, ultra-light shafts with sa range of weight from 50 grams to 57 grams making for longer drive tee shots without any additional effort.
Check Price and Availability on Amazon
Expensive Golf Clubs vs Cheap ones
To conclude here's a short clip showing the main benefits of investing in an expensive gold club instead of going for a cheap version.