In today's business world the back nine is rapidly replacing the boardroom as a prime location for building relationships and sealing deals. A study by Hyatt Hotels and Resorts found that 93 percent of executives believe a round of golf is a good way to build a business relationship.
It also found that a quarter of the nation's 25 million golfers use the game as a business tool, spending $2 billion a year courting their clients on the fairways.
Unfortunately, industry consultants say, many haven't learned the ins and outs of business golf. It involves much more than arranging a tee time and slapping on a pair of spikes.
Like everyday golf, it comes with unwritten rules of etiquette. Follow the rules, expert say, and you can be successful player, even if you can't break 110. Violate them and you won't just miss greens — you may miss out on a lot of green.
Playing golf for business may seem like a perk of the job but the truth is, billions of dollars in business transactions happen on the links every year. I try to remind people that they're not playing a round of golf, they're playing a round of business.
Luckily, learning to play good business golf is easier than learning to play good golf.
These 10 tips from the pros should help you close more deals on the links.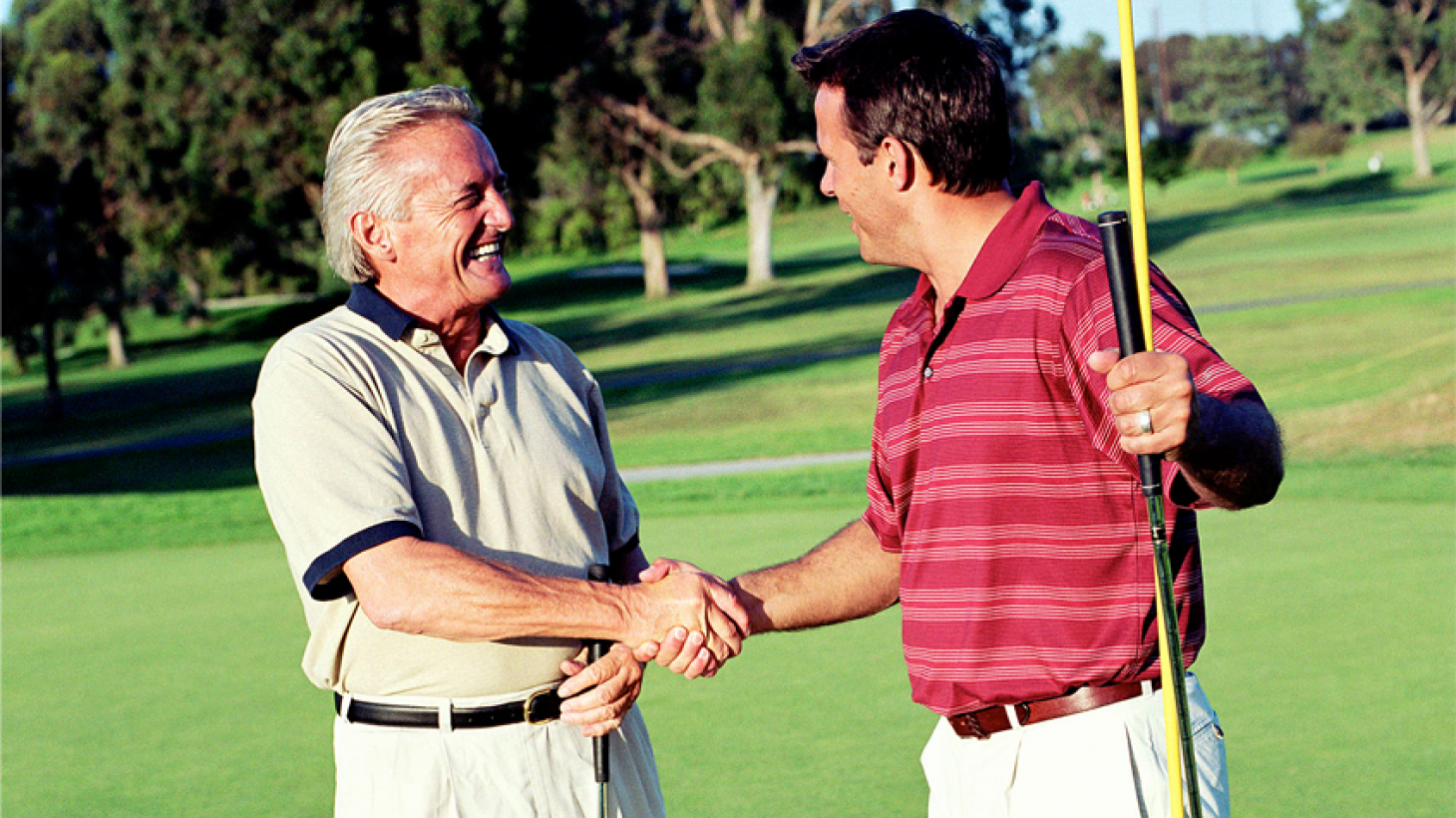 10 Tips for Business Golf Etiquette
KNOW YOUR PLAYING PARTNERS.
Know their personalities, preferences, and playing abilities. One former CEO of a major company required his salespeople to keep a file on their business golf partners. He didn't want low-handicappers paired with hopeless hackers, and he didn't want too many type A's playing head-to-head.
Good business golfers learn to read personalities like they read greens, and they realize that the pairings can make or break a round. A lot of it is simple intuition, basic people skills but you'd be surprised how many people lack those.
BE PUNCTUAL.
You'd also be surprised how many business golfers show up late to the course. Hosts should arrive 45 minutes before teeing off. This allows time to make sure the rounds are paid for and — if it's a private club — to reserve locker space for every member of the group.
COME BEARING GIFTS.
Hosts should present their playing partners with gifts before the rounds, preferably a personalized item that clients will use long after they've finished the 18th hole.
Something as simple as a stylish golf shirt bearing the company logo will do. It's more than good publicity for your business; it tells clients they're being treated to a special occasion, not a sterile corporate outing.
A lot of people give out sleeves of balls but I think that's like a slap in the face. Considering you're already paying good money for a round of golf, and $8 sleeve of balls can come across as a cheap afterthought.
GO AHEAD AND WAGER.
Most business golfers have competitive streaks, or they wouldn't be in business. And most like to gamble on the links, which gets a thumbs up from the experts.
Just make sure everyone is comfortable with the stakes. Maybe play for drinks or lunch. If the betting starts out small, don't let it increase as the round progresses. The stakes may grow beyond a player's comfort zone.
Betting is important to relationship-building. In just a few holes, you and your prospective client are calling each other partner. That's a very powerful psychological connections.
ESTABLISH THE RULES OF PLAY
Are mulligans allowed? Are you playing lift-and-clean in the fairways? Are gimmies conceded on putts inside the leather?
Some golfers are more forgiving than others. The last thing you want is a minor misunderstanding that escalates into an awkward argument, which would likely seal your fate, not a deal, with a client.
PLAY IN FOURSOMES NOT TWOSOMES.
The more players, the more social the outing, experts say.
It's also good to play best-ball matches in teams of two. That takes the pressure off weaker players, who may embarrass themselves if forced to make go of it alone.
You always need to remind yourself why you're out there. You're not there to break the course record, though that would be nice. You're there to build a relationship.
PRAISE SPARINGLY.
It's nice to compliment in the beginning on a solid shot, even if the shot winds up in the bunker, but talking too much about your partner's game can get you in trouble.
Be aware of each player's ability, and use kind words accordingly. Don't praise a scratch golfer for a booming drive that bounds off the fairways in to the rough. If he's a really good golfer that can get irritating very fast.
TEMPER TEMPERS.
If someone in your group suffers through a bad round and shows a temper, try to lighten the air by turning the conversation away from golf — or by laughing at your own poor shots.
If the malcontented player continues to fume, that may be a sign of a deeper problem, and you may decide you don't want his business after all.
Meantime, never let your own frustration boil out of control. This round of golf isn't about you, so suspend your ego no matter how you play.
Stories abound about expensive corporate outings that ended in disaster because someone in the company flew into a rage. It happens all the time. You hear of cases where an important client walked off the course in the middle of the round and it turns out he couldn't put up with the temper of one of your salespeople.
KNOW THE ETIQUETTE
Repair your ball marks. Don't talk in someone's backswing. Avoid stepping in your partner's line. And whatever you do, keep up with the group in front. Slow play, surveys show, is the number-one pet peeve of most corporate golfers.
The irony, of course, is that so many are guilty of it.
They play "TV golf," walking off yardage, taking 50 practice swings; that's okay for Tiger Woods but not a mid-level salesperson who couldn't break 100 on a pitch-n-putt.
KNOW WHEN TO TALK SHOP.
Don't bombard your clients with a sales pitch the second after you tee off. Feel them out. Go along with whatever pace they set.
What's important is to keep a clear goal in mind: Are you simply trying to build the beginnings of a relationship or put the finishing touches on a deal?
Use your intuitions. Business talk may need to wait until the 19th hole, where many deals get sealed over a drink.