In the vast majority of games in golf it's a putt that seals the victory, and over the years there have been many classic putts.
Here are just a few of our favourites – each of which has it's own story.
Tiger Woods – 2008 US Open
The putter was the first club Tiger Woods learned to play with.
When Tiger burst onto the scene, he was a good putter at best, but with time he became a great putter and it's probably the most improved part of his game since he turned pro.
In 2008 he didn't miss a single putt inside four feet in all of the tournaments he entered. That is an unbelievable statistic, and unlikely to be matched for some time to come.
Look at the sheer joy on Tiger's face as he sinks the winning putt to win a tough play-off in the US Open.
Justin Leonard – 1999 Ryder Cup
It was a great putt, even though he admitted there was a little bit of luck for it to go in – there always is with the really long putts!
This was a monster putt that Justin holed from well over 30 feet.
But it went onto cause a storm of controversy as his team mates rushed onto the actual putting green to congratulate him when his European opponents were still waiting to putt thereby damaging the putting surface and breaking their concentration.
Ian Woosnam – 1991 US Masters
This was actually a pretty poor putt by Ian Woosnam – it doesn't look like he kept his head very still does it?!
But somehow he holed it and it went onto become such a well known putt when Ian celebrated as the ball dropped into the hole.
Bernhard Langer – 1991 Ryder Cup putt miss
Remember that the Ryder Cup is a team event, and any player who lost their match could have been said to have lost the Ryder Cup, so not really a fair reflection on this single putt.
This was billed as the putt that lost the Europeans the 1991 Ryder Cup and one of the most famous missed putts in modern golfing history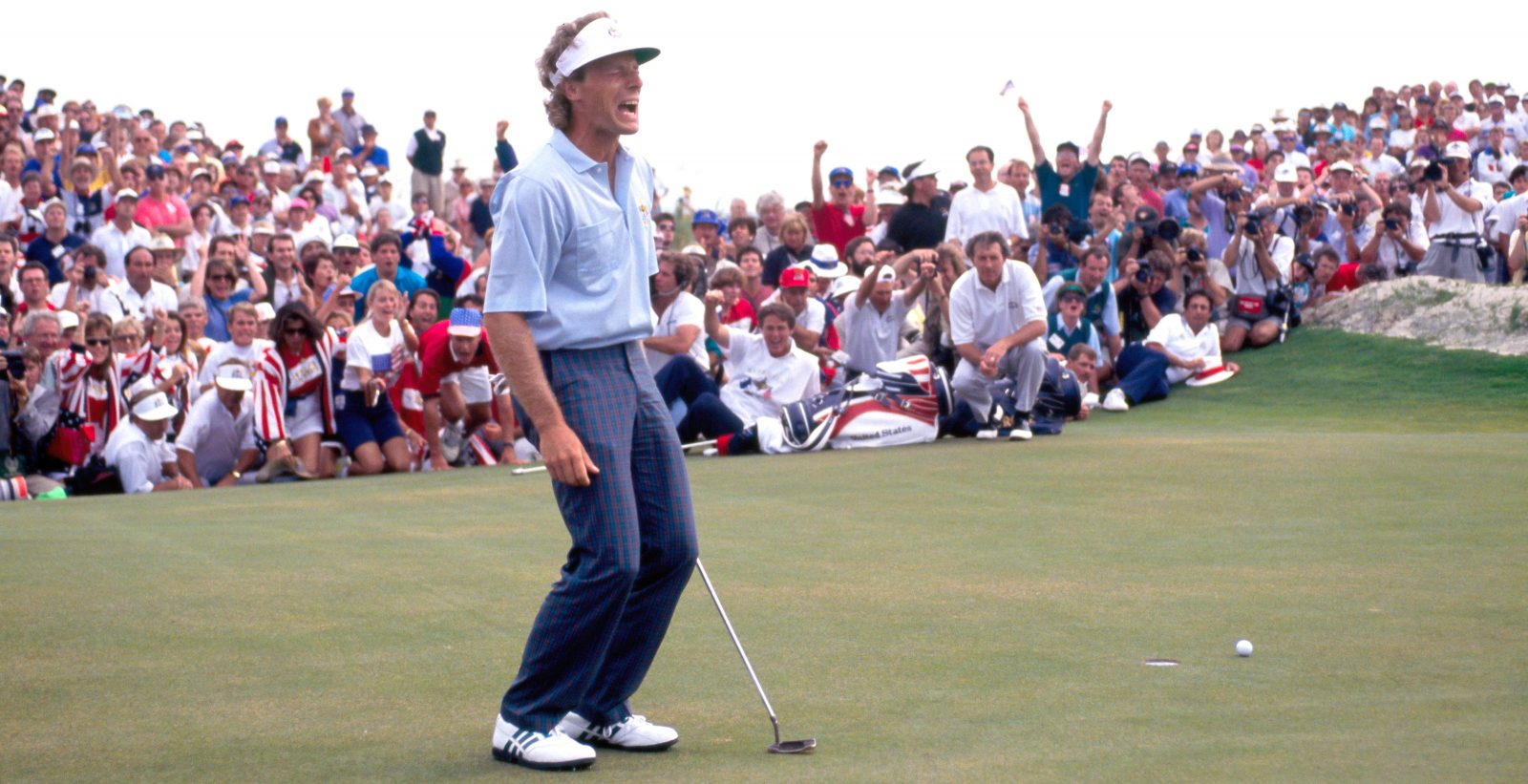 Langer often suffered from putting 'yips' and went onto invent his own putting grip called the 'Langer' grip which helped him overcome them.
Langer was always known as 'the professionals professional' due to his perfectionist attitude and psychological sense.
The weekend after this Langer won his next European Tour Event…….