What a breathtaking region for golf. The region stretches from the Land of Valencia in the north 120 miles all the way down to the most southerly resort of La Manga in the Costa Calida. ( The warm coast )
The principle region is the Costa Blanca (White coast ) which benefits from a far more arid climate in the winter months than the Costa the Sol, they only have an average of 5 days rain fall between November and March and you can expect blue skies and temperatures in the early 70's.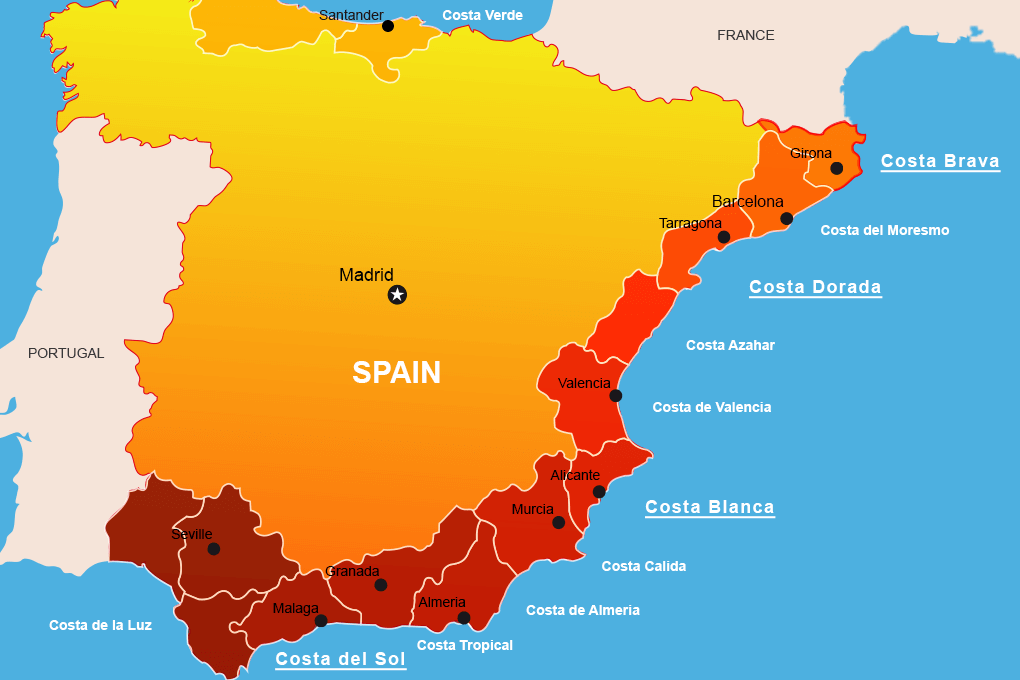 Short sleeves are a possibility even in December…
The golf courses are excellent, offering a variety of designs from the rugged Los Ramblas to the manicured La Sella and the renowned Villamartin course. The scenery is at all times spectacular with the amazing mountain backdrop in continual view on one side, with the sparkling Mediterranean on the other.
As far as the nightlife is concerned we feel certain that many of our selected resorts can keep you well entertained away from the course, Alicante itself is a hubbub of great nightlife, whilst Benidorm and Torrevieja are also very impressive.
We feel certain that you will get great value for money on and off the golf course.
The availability of courses is another key factor. Here's a short summary of the main courses you can find in this region.
Los Ramblas
Los Ramblas is really spectacular, elevated tees, narrow fairways and lightning greens. This is a great test of golf and will be a memorable game. Los Ramblas means the old river beds, you will see plenty of these during your round!
Real Club De Golf Campoamor
This is a Royal Course, laid out over polling hills, lush green fairways and many elevated test of golf and very long, compared to some of its close neighbors, sealed by Royalty.
Villamartin
This is the oldest course in the region and is situated next to its sister course Los Rambas, essentially a member course, it forms the golden triangle, which also includes Campoamor.
All 3 courses are within 5 minutes of each other!
Villamartin is laid out over rugged terrain with undulating fairways and relatively wide fairways, but with very fast greens.
Alicante Golf
Laid out by the great Seve Ballesteros, Alicante Golf has amazing backdrops of scenery, with a combination of rugged mountain outcrops, the blue Mediterranean and the skyscraper skyline of Alicante City.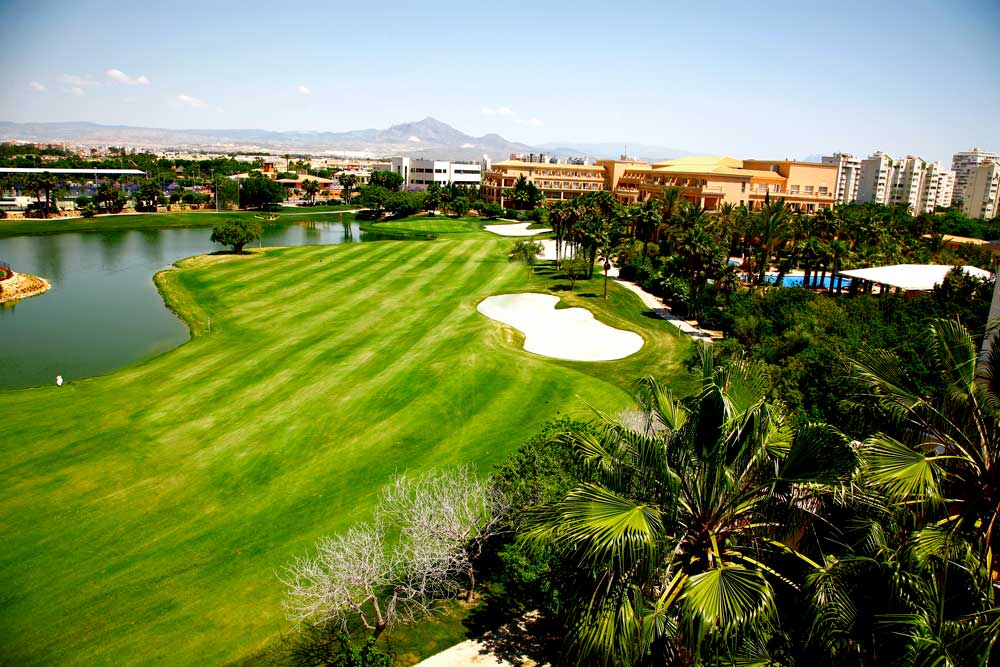 The course is unique, it has 6 par 3's, 6 par 4's and 6 par 5's. There are also a large number of holes with water, in general the course is treeless and very flat, but a super exhilarating test, of golf.
Club de golf Bonalba
This is one of our favorites, set further away from Alicante, in rolling valleys with an amazing outcrop of mountains on one side and the sparkling med on the other.
The course is quite hilly, but not over strenuous, but the shot making and scenery is amazing. Bonalba also has one of the best clubhouses.
La Manga Club
Considered one of the finest golf and leisure resorts in the whole of Europe, La Manga sits in the foothills of Murcian mountains on the Costa Calida.
Three 18 hole golf courses, golf & tennis academies, horse riding, fitness centre and beach club, in total 30 sporting activities are available in this complete holiday resort.
El Saler
Ranked number 3 in Europe. This is a great links on the edge of the Mediterranean, with a fine contrasting 9 holes laid out through umbrella pines and sand dunes.
This course is only worth playing if you are lying via Valencia or staying at Oliva Nova or La Sella, because of its location.
Oliva nova
This is a great new course again designed by Seve Ballesteros, arguably a links course, situated right next to the sand dunes and picturesque stretch of beach of Oliva Nova.
The course is extremely flat, but because of the continual threat of water it is at all times demanding. Oliva Nova is essentially a resort lay out and accordingly well manicured.
La Sella
This is the number one track in the Costa Blanca, situated in an exclusive location surrounded by beautiful scenery and very close to Javea.
The first nine were designed by Jose Maria Olazabal.
The fairways are narrow through a mix of deciduous forest and rugged rocky terrain. Laid out in a lush valley, the backdrops are superb.
Alto Real
Situated half way between Alicante and La Manga, the course is just north west of Murcia.
Alto Real is a great lay out with a combination of hilly and flat holes with superb mountain scenery. Well manicured and designed by the renowned Donald Steel.